NEW YORK (TheStreet) — Shares of New Gold (NGD – Get Report) closed lower by 0.41% to $2.45 on Thursday, alongside retreating gold prices.
For April delivery, gold is down by 0.11% to $1,115.10 per ounce on the COMEX this afternoon.
The price of the precious metal inched down today following comments from the Federal Reserve yesterday suggesting it will increase interest rates this year despite market instability.
Exclusive Look Inside: You see Jim Cramer on TV. Now, see where he invests his money. Check out his multi-million dollar portfolio and discover which stocks he is trading. Click here to see the holdings for 14-days FREE.
The central bank kept interest rates unchanged on Wednesday and said it was "closely monitoring" global economic and financial developments.
Additionally, bullion investors cashed in gains from Wednesday's rally to a 12-week high for gold, Reuters reports.
"(Gold) did jump very much higher overnight, so we're seeing some selling into that rally right now," Mitsubishi analyst Jonathan Butler told Reuters. "We're getting up towards the $1,130 level and there's some fairly significant technical resistance once we get up to $1,136."
Gold declined by 1% today.
New Gold is a Canada-based gold mining company engaged in the development and operation of mineral properties.
Separately, TheStreet Ratings Team has a "sell" rating with a score of D on the stock.
This is driven by multiple weaknesses, which should have a greater impact than any strengths, and could make it more difficult for investors to achieve positive results compared to most of the stocks covered by the team.
The company's weaknesses can be seen in multiple areas, such as its feeble growth in its earnings per share, deteriorating net income, disappointing return on equity, weak operating cash flow and generally disappointing historical performance in the stock itself.
Recently, TheStreet Ratings objectively rated this stock according to its "risk-adjusted" total return prospect over a 12-month investment horizon. Not based on the news in any given day, the rating may differ from Jim Cramer's view or that of this articles's author.
The U.S. Empire is in serious trouble as the collapse of its domestic shale gas production has begun.  This is just another nail in a series of nails that have been driven into the U.S. Empire coffin.
Unfortunately, most investors don't pay attention to what it taking place in the U.S. Energy Industry.  Without energy, the U.S. economy would grind to a halt.  All the trillions of Dollars in financial assets mean nothing without oil, natural gas or coal.  Energy drives the economy and finance steers it.  As I stated several times before, the financial industry is driving us over the cliff.
The Great U.S. Shale Gas Boom Is Likely Over For Good
Very few Americans noticed that the top four shale gas fields combined production peaked back in July 2015.  Total shale gas production from the Barnett, Eagle Ford, Haynesville and Marcellus peaked at 27.9 billion cubic feet per day (Bcf/d) in July and fell to 26.7 Bcf/d by December 2015: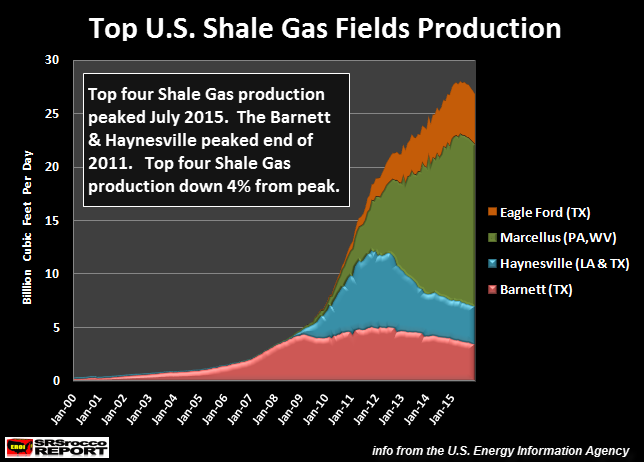 As we can see from the chart, the Barnett and Haynesville peaked four years ago at the end of 2011.  Here are the production profiles for each shale gas field: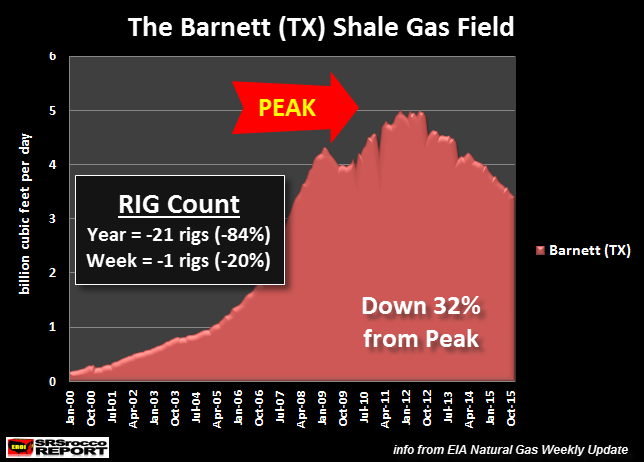 According to the U.S. Energy Information Agency (EIA), the Barnett shale gas production peaked on November 2011 and is down 32% from its high.  The Barnett produced a record 5 Bcf/d of shale gas in 2011 and is currently producing only 3.4 Bcf/d.  Furthermore, the drilling rig count in the Barnett is down a stunning 84% in over the past year.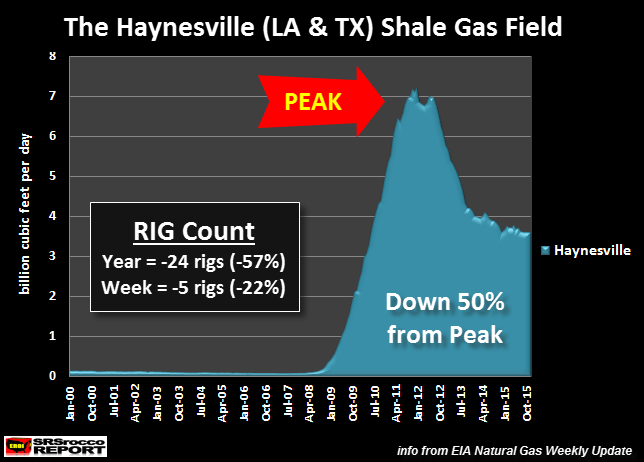 The Haynesville was the second to peak on Jan 2012 at 7.2 Bcf/d per day and is currently producing 3.6 Bcf/d.  This was a huge 50% decline from its peak.  Not only is the drilling rig count in the Haynesville down 57% in a year, it fell another five rigs this past week.  There are only 18 drilling rigs currently working in the Haynesville.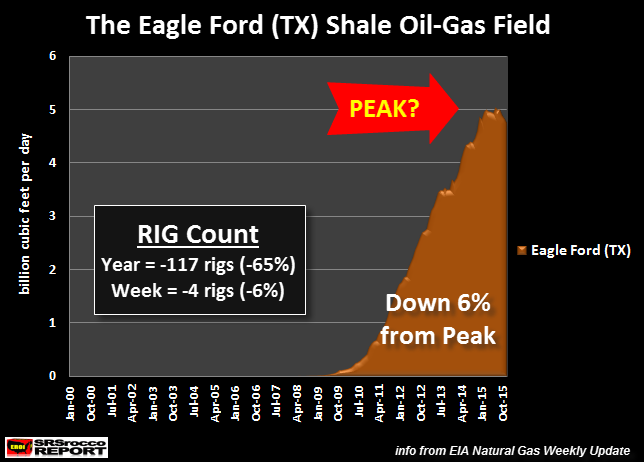 The EIA reports that shale gas production from the Eagle ford peaked in July 2015 at 5 Bcf/d and is now down 6% at 4.7 Bcf/d.   As we can see, total drilling rigs at the Eagle Ford declined the most at 117 since last year.  The reason the drilling rig count is so much lower is due to the fact that the Eagle Ford is the largest shale oil-producing field in the United States.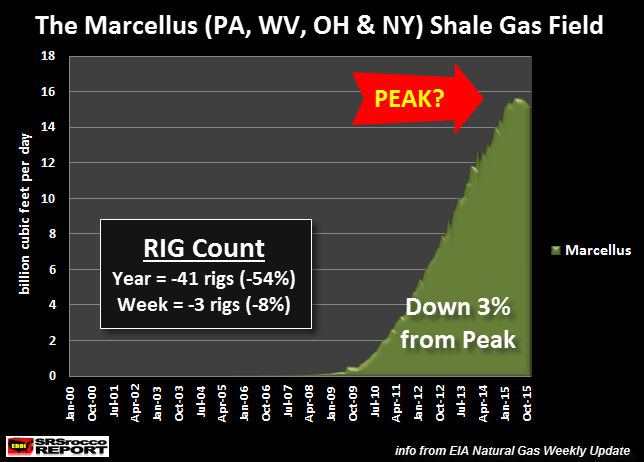 Lastly, the Mighty Marcellus also peaked in July 2015 at a staggering 15.5 Bcf/d and is now down 3% producing 15.0 Bcf/d currently.  The Marcellus is producing more gas (15 Bcf/d) than the other top three shale gas fields combined (12.1 Bcf/d).
I have posted the Haynesville shale gas production chart below to discuss why U.S. Shale Gas production will likely collapse going forward: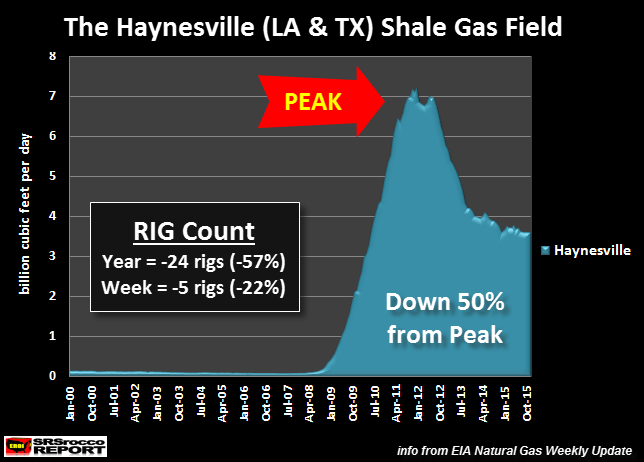 What is interesting about the Haynesville shale gas field, located in Louisiana and Texas, is the steep decline of production from its peak.  On the other hand, the Barnett (chart above in red) had a much different profile as its production peak was more rounded and slow.  Not so with the Haynesville.  The decline of shale gas production at the Haynesville was more rapid and sudden.  I believe the Eagle Ford and Marcellus shale gas production declines will resemble what took place in the Haynesville.
All you have to do is look at how the Eagle Ford and Marcellus ramped up production.  Their production profiles are more similar to the Haynesville than the Barnett.  Thus, the declines will likely behave in the same fashion.  Furthermore drilling and extracting shale gas from the Haynesville was a "Commercial Failure" as stated by energy analyst Art Berman in hisForbes article on Nov 22 2015:
The Haynesville Shale play needs $6.50 gas prices to break even. With natural gas prices just above $2/Mcf (thousand cubic feet), we question the shale gas business model that has 31 rigs drilling wells in that play that cost $8-10 million apiece to sell gas at a loss into a over-supplied market.

At $6 gas prices, only 17% of Haynesville wells break even(Table 3) and approximately 115,000 acres are commercial (Figure 2) out the approximately 3.8 million acres that comprise the drilled area of the play.

The Haynesville Shale play is a commercial failure. Encana exited the play in late August. Chesapeake and Exco, the two leading producers in the play, both announced significant write-downs in the 3rd quarter of 2015.
Basically, the overwhelming majority of the shale gas extracted at the Haynesville was done so at a complete loss.  So, why do they continue drilling and producing gas in the Haynesville?
The reason Art Berman states is this:
What we see in the Haynesville Shale play are companies that blindly seek production volumes rather than value, and that care nothing for the interests of their shareholders. The business model is broken. It is time for investors to finally start asking serious questions.
Chesapeake is one of the larger shale gas producers in the Haynesville as well as in the United States.  According to its recent financial reports, Chesapeake received $1.05 billion in operating cash in the first three-quarters of 2015, but spent $3.2 on capital expenditures to continue drilling.  Thus, its free cash flow was a negative $2.1 billion in the first nine months of 2015.  And this doesn't include what it paid out in dividends.
The same phenomenon is taking place in other companies drilling for shale gas in the other fields in the U.S.  This insanity has Berman perplexed as he states this inanother article from his site:
This has puzzled me because the shale gas plays are not commercial at less than about $6/mmBtu except in small parts of the Marcellus core areas where $4 prices break even. Natural gas prices have averaged less than $3/mmBtu for the first quarter of 2015 and are currently at their lowest levels in more than 2 years.
The reason these companies continue to produce shale gas at a loss is to keep generating revenue and cash flow to service their debt.  If they cut back significantly on drilling activity, their production would plummet.  This would cause cash flow to drop like a rock, including their stock price, and they would go bankrupt as they couldn't continue servicing their debt.
Basically, the U.S. Shale Gas Industry is nothing more than a Ponzi Scheme.
The Collapse Of U.S. Shale Gas Production Even At Higher Prices
I believe the collapse of U.S. shale gas production will occur even at higher prices  Why?  Because the price of natural gas increased from $2.75 mmBtu in 2012 to $4.37 mmBtu in 2014, but the drilling rig count continued to fall: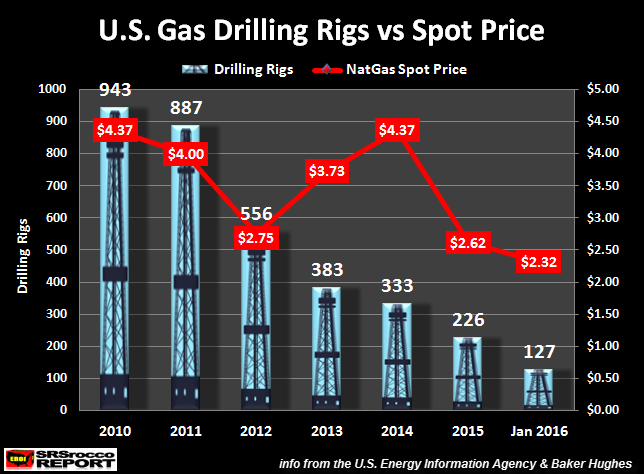 As the price of natural gas increased from 2012 to 2014, gas drilling rigs fell 40% from 556 to 333.  Furthermore, drilling rigs continued to decline and now are at a record low of 127.  Just as Art Berman stated, the average break-even for most shale gas plays are $6 mmBtu, while only a small percentage of the Marcellus is profitable at $4 mmBtu.
Looking at the chart again, we can see that the price of natural gas never got close to $6 mmtu.. the highest was $4.37 mmBtu.  Thus, the U.S. Shale Gas Industry has been a commercial failure.
Now that the major shale gas producers are saddled with debt and many of the sweet spots in these shale gas fields have already been drilled, I believe U.S. shale gas production will collapse going forward.  If we look at the Haynesville Shale Gas Field production profile, a 50% decline in 4 years represents a collapse in my book.
The Two Nails In The U.S. Empire Coffin
As I stated in several articles and interviews, ENERGY DRIVES THE ECONOMY, not finance.  So, energy is the key to economic activity.  Which means, energy output and the control of energy are the keys to economic prosperity.
While the collapse of U.S. shale gas production is one nail in the U.S. Empire Coffin, the other is Shale Oil.  U.S. shale oil production peaked before shale gas production: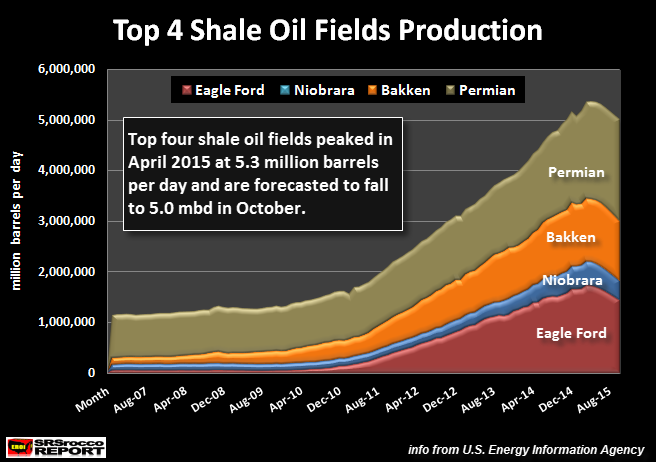 This chart is a few months out of date, but according to the EIA's Productivity Reports, domestic oil production from the top four shale oil fields peaked in April of 2015… three months before the major shale gas fields (July 2015).
Unfortunately for the United States, it was never going to become energy independent.  The notion of U.S. energy independence was built on hype, hope and cow excrement.  Instead, we are going to now witness the collapse of U.S. shale oil and gas production.
The collapse of U.S. shale oil and gas production are two nails in the U.S. Empire coffin.  Why?  Because U.S. will have to rely on growing oil and gas imports in the future as the strength and faith of the Dollar weakens.  I see a time when oil exporting countries will no longer take Dollars or U.S. Treasuries for oil.  Which means… we are going to have to actually trade something of real value other than paper promises.
I believe U.S. oil production will decline 30-40% from its peak (9.6 million barrels per day July 2015) by 2020 and 60-75% by 2025.  The U.S. Empire is the suburban sprawl economy that needs a lot of oil to keep trains, trucks and cars moving.  A collapse in oil production will also mean a collapse of economic activity.
Thus, a collapse of economic activity means skyrocketing debt defaults, massive bankruptcies and plunging tax revenue.  This will be a disaster for the U.S. Empire.
Lastly, it is hard to forecast how this unfolds, but the best plan of action is to be more self-sufficient in the country with wealth held in physical gold and silver.
Summary
Gold stocks have plunged in the aftermath of a vicious downtrend in gold prices.
Most stocks have struggled to report any positive bottom lines in the last few years.
Few gold stocks appear to have shaken the pressure exerted by declining gold prices to net positive incomes for the trailing 12-month period.
Some of these stocks also enjoy impressive dividend yields while others have enough room to grow dividends as demonstrated by their low payout ratios and strong profit margins.
The price of gold appears to be stabilizing, but it has proved to be relatively unpredictable over the last few months.
Randgold Resources (NASDAQ:GOLD) has gained more than 6% over the last five days with a majority of that gain coming this week due to the rise in gold price, which hit a new 3-month high on Tuesday.
Most gold stocks posted massive gains during the day with the likes of Newmont Mining (NYSE:NEM) adding more than 5% to their market value while Randgold was up nearly 5%.
However, the price of gold eased on Wednesday to give up some of the gains garnered in the previous trading session to trade at just below the $1,120 level.
On the other hand, the SPDR Gold Shares ETF (NYSEARCA:GLD) has gained nearly 2% since the start of the week. On Tuesday, the ETF also reached a new 3-month high of $107, a level it touched last, at the start of November last year.
Gold bears believe that the maiden rise in trading gold price over the last two days was nothing more than a sucker rally, but the bulls believe that with equities falling and the USD finally running out of steam, the price of gold could be turning a crucial corner following an extended period of decline.
Right now, investors are caught in the dilemma of choosing amongst investing in gold via trading platforms, buying gold bullion like governments are doing, or opting for gold stocks. With gold stocks, you can capitalize on more than just the increase/decrease in stock prices in the form of dividends, or share buybacks if the company has such a program.
Sydney Gold Traders pay great prices for your unwanted gold, silver, platinum and fine jewellery .
Now check the price to see if you want to sell your gold and silver:
27-Jan-2016 Everyday Sydney Gold and Silver Prices
Gold Price AUD $1600/oz, $51.44/g
Silver Price AUD $20.70/oz, $0.66/g
You can use GOLD ONLINE CALCULATOR on our website to estimate the value of your metal(Gold and Silver)
Call us 02 9231 2535 or go to Sydney Gold Traders to find out more live gold and silver price. Or just bring your gold, silver , jewellery to Shop. Let us test and evaluate them for you.
Visit Our Office Sydney Gold Traders
Suite 12A, Level 5 the Dymocks building 428 George Street Sydney 2000
(Kitco News) – Gold prices ended the U.S. day session higher and scored a nearly three-month high Tuesday. More safe-haven demand and technical buying were featured and bulls have near-term momentum on their side. The key "outside markets" were also in a bullish posture for the precious metals on this day, as crude oil prices were solidly higher and the U.S. dollar index was weaker. February Comex gold was last up $15.30 at $1,120.60 an ounce. March Comex silver was last up $0.281 at $14.535 an ounce.
Asian stock markets were mostly lower Tuesday, led by another rout in Chinese stock indexes. The Shanghai stock index fell over 6% on Tuesday and is now down 22% so far this year. Worries about the plunging value of the Chinese yuan and capital leaving the country are helping to fuel panic selling of equities in China, which in turn is leading to solid selling pressure in Asian equities markets. However, U.S. stock indexes were holding solid gains in early afternoon trading Tuesday. Still, the recent shaky stock markets worldwide have played right into the hands of the safe-haven gold market bulls.
The Federal Open Market Committee (FOMC) meeting begins Tuesday and ends Wednesday afternoon with a statement. While no change in U.S. interest rates is expected at this meeting, the statement issued after the meeting will be very closely scrutinized. Many market watchers agree the world economies and financial markets have become less stable since the last FOMC meeting in mid-December. There is now a growing consensus the Fed may not be able to raise interest rates again any time soon, and that's also a bullish element for the precious metals markets.
There was a heavy slate of U.S. economic data released Tuesday, including the S&P/Case-Shiller home price index, the U.S. monthly house price index, the U.S. flash services PMI, the consumer confidence index, and the Richmond Fed business survey. However, none of this data moved the markets significantly.
Technically, February gold futures prices closed near the session high today and hit a nearly three-month high. While the gold bears still have the overall near-term technical advantage, prices are in a choppy five-week-old uptrend and the bulls have technical momentum on their side. Gold bulls' next upside near-term price breakout objective is to produce a close above solid technical resistance at $1,150.00. Bears' next near-term downside price breakout objective is pushing prices below solid technical support at 1,092.50. First resistance is seen at today's high of $1,120.70 and then at $1,125.00. First support is seen at today's low of $1,107.20 and then at $1,100.00. Wyckoff's Market Rating: 4.0
March silver futures prices closed nearer the session high and hit a six-week high today. The silver market bears still have the overall near-term technical advantage. However, today's price action could be the beginning of a bullish upside "breakout" from the sideways trading action the past several weeks that could have been "basing" that would precede a market bottom being in place. Silver bulls' next upside price breakout objective is closing prices above solid technical resistance at $15.00 an ounce. The next downside price breakout objective for the bears is closing prices below solid support at $14.00. First resistance is seen at today's high of $14.58 and then at the December high of $14.64. Next support is seen at $14.425 and then at today's low of $14.22. Wyckoff's Market Rating: 3.0.
March N.Y. copper closed up 400 points at 203.80 cents today. Prices closed nearer the session high on short covering. The key "outside markets" were bullish for copper today as the U.S. dollar index was weaker and crude oil prices were solidly higher. The copper bears still have the firm overall near-term technical advantage. Copper bulls' next upside breakout objective is pushing and closing prices above solid technical resistance at 215.00 cents. The next downside price breakout objective for the bears is closing prices below solid technical support at the contract low of 193.55 cents. First resistance is seen at today's high of 204.95 cents and then at 207.50 cents. First support is seen at 200.00 cents and then at today's low of 198.10 cents. Wyckoff's Market Rating: 2.5.
The biggest news of the day is the soaring price of gold.
More impressive is that, while some of the gain was generated by a weaker U.S. dollar, most of the advance came via regular trading. That is to say that a lot of people wanted to buy gold.
They also wanted to buy silver (up 2.00%), platinum (up over 2.00%) and even laggardly palladium (up 1.25%). This is classic haven buying, certainly what with volatility still high, but it also might be pointing to a longer-term trend of actually investing in precious metals. One might even describe it as a flight to quality.
Bond face value prices were up today after a successful auction of 2-year paper, but – and this is germane to the allure of precious metals right now – those prices didn't rocket into space. That tells us that bonds are working on a business-as-usual basis whereas gold, silver, et al, are moving up for deeper reasons.
The strong uptick in gold came on a day that would seem not to be favorable toward investing in precious metals.
The Dow is up at 3PM in New York by 1.75%. The S&P 500 is up 1.35%, while the NASDAQ brings up the rear, moving higher by 1.00%.
A lot of chatter surrounding the crude oil market is driving action in equities. Word has it that OPEC is about to reach an agreement on output and pricing. However, like any big and complicated deal, believe it when you see it. And even then…
West Texas Intermediate rose 3.2%. Brent was up by almost 4.00%. Both the U.S. and world benchmark crudes are operating firmly in the $31+ per barrel range.
Europe was able to take advantage of the optimism in oil (short lived as it may turn out to be). The DAX, FTSE and CAC all turned positive. The CAC led the way with a full 1.00% gain.
Asia was not so lucky. Markets there closed before oil began its rampage up.
The Nikkei and Hang Sen were both down significantly but not enough to call out the National Guard.
Shanghai was devastated, though. It fell 6.38% There is also worry in China that the Fed will issue a statement tomorrow that will be unfavorable to the Chinese economy.
Our feeling is that the Chinese economy will be hurt regardless of what the Fed might say regarding interest rates in the near to middle-term future. China is in a fragile state, economically.
Years of state-controlled economics may well be coming to a rocky end sooner than we think.
Stay tuned for what the Fed statement tomorrow afternoon will mean for other geographic regions and specific economic sectors – like manufacturing and housing – in the next four to six months.
For those who would like a deeper analysis with detailed buy and sell recommendations, I invite you to try our daily video newsletter. Simply use the link at the bottom of this report to sign up for a free trial.
Wishing you, as always, good trading,